Report Coyote
Sightings Here

Fox Island Coyote Central
The purpose of this page is for Island residents to share information about coyote sightings, lost pets suspected to be coyote related, and other information that will be used to monitor the coyote over-population problem on Fox Island. Post a Coyote Sighting or lost pet incident here
You may also choose to share information on the FoxIslandNews Facebook group page.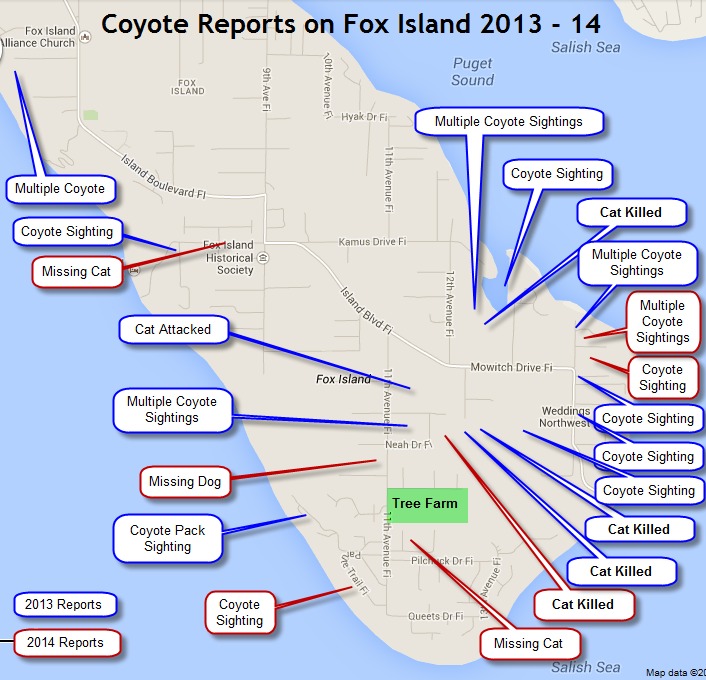 If you have encountered other forms of dangerous wildlife such as bears, cougars, mountain lions, etc. please feel free to report that here too.
Regarding coyote control on Fox Island in 2011, the problem was not completely resolved, and the coyote problem has resurfaced again this year.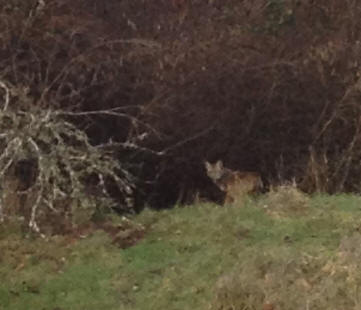 History of the Fox Island Coyote Problem
The Washington Department of Fish & Wildlife states the following, regarding coyote feeding habits:
"Coyotes occasionally kill domestic dogs (and foxes) that they consider territorial intruders".
The coyotes here on Fox Island do not 'occasionally' kill domestic dogs, they 'frequently' attack and kill cats, dogs and other small pets. This imbalance in their feeding habits is triggered by the overpopulation of coyotes caused by the release of a pair of 'Easter Bunnies' near the Tree Farm off 11th Avenue in the mid 2000's, which in turn multiplied into over 100 bunnies a few years later.
This temporarily abundant food source attracted coyotes that were not previously living on the island, and in 2011 when the bunnies were all gone, the coyotes turned to cats, dogs and other house pets for food.
I have lived on the Island for over 25 years, and been a property owner for 35 years, and during those 35 years, coyotes have only been a problem for the last 4 years. This is not "Living in Harmony" with your wildlife, it is an imbalance in the natural order, caused by human manipulation of the coyote's food supply, and after 3 years, they are not 'going away' on their own.
The WDFW goes on to say:
"In suburban areas of southern California, trapping and euthanizing coyotes has been shown not only to remove the individual problem animal, but also to modify the behavior of the local coyote population. When humans remove a few coyotes, the local population may regain its fear of humans in areas where large numbers of humans are found. Itís neither necessary nor possible to eliminate the entire population of coyotes in a given area."
The News Tribune, KIRO TV and KOMO News reported that the City of Tacoma initiated a similar program in Northeast Tacoma in January 2014.
University Place has also reported coyote activity in their community in 2013.
Post a Coyote Sighting or lost pet incident here
Thank you,
John Ohlson, Webmaster.

Recent Incidents
, posted by Fox Island residents:

Sunday, July 20, 2014 - Coyote Sighting - Near Fox Island Cemetary
Juvenile coyote walked into our back yard, looked around and walked back into the forest.

Saturday, July 19, 2014 - Just saw a Coyote standing in the middle of a... - 13th & Island Blvd.
Just saw a Coyote standing in the middle of a driveway down and around the corner from 13th. He was good sized and had a darker grey/black mottled coat. I whistled at him and he was gone.

Wednesday, July 09, 2014 - Coyote Sighting - 11th Court - 11th Court
At 12:45 am on Wednesday, July 9th a single coyote was seen moving south on 11th Court and then turning east, passing between adjacent houses Nos. 1383 and 1367.

Monday, July 07, 2014 - Woke up by horrible cries from a dog and howling - Ozette Dr
Woke up by horrible cries from a dog and howling around Ozette. Assuming coyotes (heard multiple howls). Praying someone was closer to stop whatever happened. :(

Sunday, July 06, 2014 - Saw a coyote skulking around Paiute Trail - Paiute Trail
Saw a coyote skulking around Paiute Trail at 4:40 this afternoon.


Saturday, July 05, 2014 - Coyote sighting - 11th Ave and Potlatch Drive
coyote spotted in our backyard at 4:40 pm

Tuesday, July 01, 2014 - Coyote Spotted On 11th Ave - 914 11th Avenue
A coyote was spotted at 08:40 p.m. going from my yard into the neighbors yard. Their address is 924 11th Avenue.

Monday, June 30, 2014 - Coyote Sightings and Missing Cats - 914 11th Avenue
I have seen a coyote come thru my yard in the 900 block of 11th Ave on three occasions. I have had three to five feral cats disappear over the last 10 months.

Friday, June 27, 2014 - Coyote sighting - 1171 14th Ave
Coyote sighted walking on driveway at approximately 2:35 PM. Spouse scared it away with boat horn.

Tuesday, June 24, 2014 - Cat Missing 9th & Kamus - Kamus Dr and 9th Ave Ct
Small, male kitty missing since 7pm Tues evening.

Monday, June 23, 2014 - Coyote Barking - 11th Ave. and Ozette
3:00 am barking sounds for 45 minutes off and on. No sighting.

Saturday, June 21, 2014 - Single Coyote Spotted Near UCC - 600 Island Blvd
Single coyote spotted 7:15 am heading south across my lawn - n side of 6th Ave near UCC.

Wednesday, June 18, 2014 - Coyote Sighting - Kamus Dr and 9th Ave Ct
Single coyote in front yard at 8:30am. My movement in the window must have frightened it. Ran down the driveway and headed east on Kamus Dr.

Sunday, June 15, 2014 - Lone Coyote Howling Near 12th Ct - Manito Drive, Fox Island
A lone coyote is howling right now, 9:45 pm Sunday.
It is on the east side of 12th court, just SE of Manito Dr. Seems to be heading northeast, towards 14th Ave.

Tuesday, May 20, 2014 - Coyote Barking Near Ozette Dr. - 11th Avenue and Ozette
03:30 am - Multiple coyotes barking, and occasional dog bark. Went on for one hour.

Friday, May 16, 2014 - Pack of coyotes howling May 16 - 916 9th Ave, Fox Island
Pack of coyotes howling May 16, late at night, near the Nature Center, between 9th and 10th.

Sunday, May 04, 2014 - Lost our Kitty off Kamus Dr - Kamus Drive
Lost our kitty off Kamus. Last seen Thur evening. Grey long haired mail. Please be on the lookout.

Tuesday, April 15, 2014 - Cat Missing - Coyote Howling Heard on Ozette Dr. - 11th & Ozette Drive
Coyote howling heard on Ozette. It was about April 15th and I was walking with my small dog past the tree farm. It was about 10 ft from the road and howled 3 times as we passed by. Afterwards a family nearby informed me they have a missing cat.

Wednesday, April 02, 2014 - Coyote howling - Ozette Dr and 11th Court
Single coyote howled multiple times in the field of the tree farm as I walked by with my small dog.

Monday, September 02, 2013 - Cat Killed by Coyotes - Manito Drive, Fox Island
White house cat killed by coyotes near 11th & Manito Dr.

Tuesday, August 06, 2013 - Beloved tiny black cat killed - on our property at 1267 Mowitsh Drive
Blackberry failed to come in before dark. We heard coyotes calling from above Mowitsh, from toward Smugglers Cove and on our property between 12th and 13th on Cedrona Bay. I walked a lot and called until after 3:30 AM hoping to get the cat to respond or to deter the coyotes. This was the evening and night of 8/6/13. We found Blackberrys remains just about 11:30 this morning 8/7/13...right in our yard.

Fill in the information below, and click "Submit Incident"

* Incident Subject:

*Location of Incident

* Description of Incident:

For Coyote Sightings, list the location, time of day and how many you saw, as well as the direction they were headed in.

*Incident Date:
(Format: 11/20/00)

The information provided below will not be published on the website, and is for internal use only:

* Contact Name:

* Email Address:

* Phone:
(Format: 253-555-1212)

* Required Fields


Please click Submit only once,
You will be asked to verify your email address on the next screen.
Information collected on this website will be used to locate problem coyotes and control
the coyote overpopulation problem on Fox Island.
No personally identifiable information will be posted on the website.
You are visitor
since November 8, 2002