Report Coyote
Sightings Here

Fox Island Coyote Central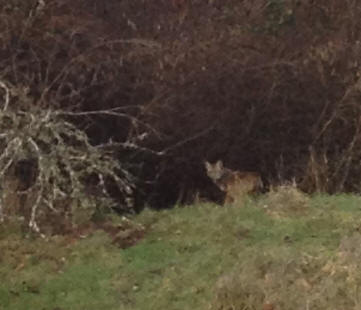 The purpose of this page is for Island residents to share information about coyote sightings, lost pets suspected to be coyote related, and other information that will be used to monitor the coyote over-population problem on Fox Island. You may also choose to share information on the FoxIslandNews Facebook group page.
If you have encountered other forms of dangerous wildlife such as bears, cougars, mountain lions, etc. please feel free to report that here too.
Regarding the USDA's involvement in coyote control on Fox Island, the funds for the original trapping work were expended about 2 years ago, and while the USDA continued to provide additional services beyond the funded work for a period of time, they are now at a point where private residents must contract individually for further control measures. If you are interested in contracting with the USDA, please contact us for more information.
Thank you,
John Ohlson, Webmaster.
Recent Incidents
, posted by Fox Island residents:

Thursday, February 27, 2014 - Coyote Sighting - 1040 Paiute Trail
8:30 AM 02/27/2014 Deer scattered. One coyote emerged from the bank line. Noticed me taking photo and went back down the South West bank toward the water.

Thursday, February 20, 2014 - Another coyote sighting - 1165 14th Ave
One coyote seen walking leisurely across an open area near woods until a vehicle came up the driveway. The time was 1:45 in the afternoon 2/20/14.

Saturday, February 15, 2014 - Coyotes sighted - Between 1165 and 1171 14th Ave.
1:15a.m. 2/15/14
2 coyotes slowly walking toward my house until they realized they were being watched. then they separated and ran in different directions around the neighboring house. These two houses have clear visibility of each other.

Fill in the information below, and click "Submit Incident"

* Incident Subject:

*Location of Incident

* Description of Incident:

For Coyote Sightings, list the location, time of day and how many you saw, as well as the direction they were headed in.

*Incident Date:
(Format: 11/20/00)

The information provided below will not be published on the website, and is for internal use only:

* Contact Name:

* Email Address:

* Phone:
(Format: 253-555-1212)

* Required Fields


Please click Submit only once, processing may take up to one minute.
You are visitor
since November 8, 2002