Report Coyote
Sightings Here

Fox Island Coyote Central
The purpose of this page is for Island residents to share information about coyote sightings, lost pets suspected to be coyote related, and other information that will be used to monitor the coyote over-population problem on Fox Island. Post a Coyote Sighting or lost pet incident here
You may also choose to share information on the FoxIslandNews Facebook group page.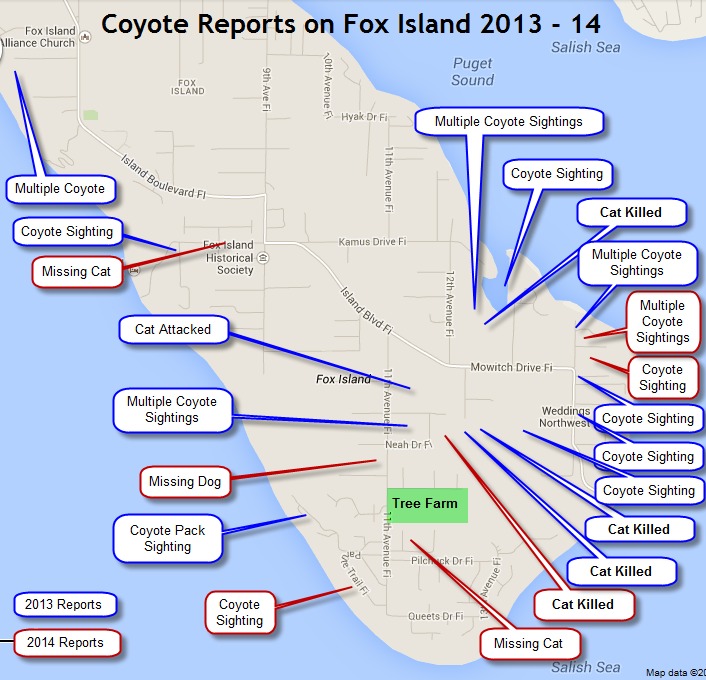 If you have encountered other forms of dangerous wildlife such as bears, cougars, mountain lions, etc. please feel free to report that here too.
Regarding coyote control on Fox Island in 2011, the problem was not completely resolved, and the coyote problem has resurfaced again this year.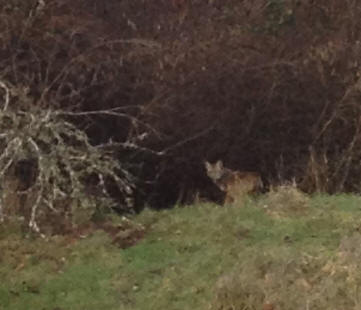 History of the Fox Island Coyote Problem
The Washington Department of Fish & Wildlife states the following, regarding coyote feeding habits:
"Coyotes occasionally kill domestic dogs (and foxes) that they consider territorial intruders".
The coyotes here on Fox Island do not 'occasionally' kill domestic dogs, they 'frequently' attack and kill cats, dogs and other small pets. This imbalance in their feeding habits is triggered by the overpopulation of coyotes caused by the release of a pair of 'Easter Bunnies' near the Tree Farm off 11th Avenue in the mid 2000's, which in turn multiplied into over 100 bunnies a few years later.
This temporarily abundant food source attracted coyotes that were not previously living on the island, and in 2011 when the bunnies were all gone, the coyotes turned to cats, dogs and other house pets for food.
I have lived on the Island for over 25 years, and been a property owner for 35 years, and during those 35 years, coyotes have only been a problem for the last 4 years. This is not "Living in Harmony" with your wildlife, it is an imbalance in the natural order, caused by human manipulation of the coyote's food supply, and after 3 years, they are not 'going away' on their own.
The WDFW goes on to say:
"In suburban areas of southern California, trapping and euthanizing coyotes has been shown not only to remove the individual problem animal, but also to modify the behavior of the local coyote population. When humans remove a few coyotes, the local population may regain its fear of humans in areas where large numbers of humans are found. Itís neither necessary nor possible to eliminate the entire population of coyotes in a given area."
The News Tribune, KIRO TV and KOMO News reported that the City of Tacoma initiated a similar program in Northeast Tacoma in January 2014.
University Place has also reported coyote activity in their community in 2013.
Post a Coyote Sighting or lost pet incident here
Thank you,
John Ohlson, Webmaster.

Recent Incidents
, posted by Fox Island residents:

Friday, October 31, 2014 - Coyote in our yard On 11th Lane - 11th Lane and Ozette
One Coyote came into our yard around noon. It ran the other way after it spotted me.

Thursday, October 16, 2014 - coyotes and missing cat - vicinity 11th & Manito
One smallish cat has been missing for a couple of weeks. She hid in our arroyo to avoid coming in at night; I assume shes become coyote food.

The last couple of nights weve heard single coyotes and packs howling up a storm and very close. They seem to make use of the woods at the point where 11th curves back behind itself.

BTW, kitty is named Bella, about 8-10 lbs, dark long fur with some gold and tan brindling. If you should see her, I am Patty, at 442-800-1402.

Monday, October 13, 2014 - coyote siting - 1165 14th Ave
Two coyotes walked up our driveway and eventually turned onto our neighbors property.

Thursday, October 09, 2014 - coyote sighting - 7th Ave and Fox Drive at Old Ketner Road
9:15am. Coyote #2 sighted 200 North of our house on driveway, circling around barn. Appeared to be traveling to/from direction of 7th (east) using Old Ketner Rd, but possibly frightened by neighbors dogs in kennel. Definitely different coyote than one sighted one hour earlier.

Thursday, October 09, 2014 - coyote sighting - 7th Ave and Fox Drive at Old Ketner Road
8am in lower front yard, skirting the perimeter of lawn/woods. We were alerted by our indoor cat growling as he looked out the window. Coyote saw us in window and perked up. Took off into woods heading southwest. It appeared to be coyote #1 from first recentsighting.

Wednesday, October 08, 2014 - coyote sighting - 7th Ave and Fox Drive at Old Ketner Road
8:00 am coyote #2 in front yard, heading NW, parallel to 6th Ave, into overgrown pasture area. Spent more time in open yard area than usual. Normally stays closer to wooded perimeter. I think the neighbors on 6th need to be warned that coyotes are in the woods bordering their backyards.

Sunday, October 05, 2014 - coyote sighting - 7th Ave and Fox Drive at Old Ketner Road
1pm sighting of coyote crossing through front yard into lower woods, heading northwest toward 6th. Appears to be a different adult. Less mottled furcoat and no limp. It didnt loiter in yard, but sniffed in area where other coyote defecated previous day. Weve walked perimeter of lawn with our dog, encouraging her to mark the area. Fortunately, all cats were still in the house at time of sighting.

Saturday, October 04, 2014 - coyote sighting - 7th Ave and Fox Drive at Old Ketner Road
After inspecting the coyote scat that was deposited on our lawn, we discovered it consisted mostly of apples. Unfortunately, we have made a habit of providing our local deer herd with apples, so it appears we will need to discontinue feeding them as it is obvious the coyotes are feasting on the apples, as well. Meanwhile, well be keeping the cats in until we feel the coyotes have moved on to another source of food - hopefully vermin.

Saturday, October 04, 2014 - coyote sighting - 7th Ave and Fox Drive at Old Ketner Road
1:45 pm on Saturday, Oct 4. Adult coyote appeared on front lawn. Stayed in area for about 20 minutes basking in sun, staring at our house. It had a slight limp and scraggy fur. Defecated then went into woods when I ran after it. Headed west/southwest toward 6th Ave.

Wednesday, October 01, 2014 - Coyote Sighting - Beach of Issaquah Road
Coyote standing on my front yard and beach at 2:30 today. After I made noise to scare it, it ran south and up the hill towards the cemetery.

Sunday, September 28, 2014 - coyote in yard - 977 kamus dr
one coyote standing outside chicken coop at 8:30am
yipping and howling 3 nights in a row around midnight

Saturday, September 13, 2014 - 6 Chickens Killed - Hyak Way near the water company
There is a single coyote that comes into my backyard at approximately 6:30 am every morning. On 9/13/14, it attacked and killed six of my chickens while they were free ranging in the yard. When it was done, it ran back into the woods towards Kamus Drive.

Tuesday, September 09, 2014 - Coyote Sighting - End of 7th Lane off Fox Drive
My neighbor called to let us know he saw a large coyote standing in his yard at the end of 7th Lane off of Fox Drive shortly before 8 am.

Sunday, September 07, 2014 - Cat Missing - kiowa trail
My cat went missing around 1:00pm today. I have been looking all day, put up posters nearby to help. I suspect it was a coyote if he doesnt turn up in a day or two. Its completely out of his character. Always comes home throughout the day. Always when I call his name, never far away.

Saturday, September 06, 2014 - Single Coyote Spotted - 764 6th Ave
At 7:50 am single coyote crossed our front yard running from north to south. Did not stop while in our yard. Followed a used migration path and went down a hill to 537 Hyak.

Wednesday, September 03, 2014 - Coyote Pair Seen By UCC Church - 764 6th Avenue
At 8 am two young coyotes crossed our yard from south to north stopping several times to mark their territory. They then headed north toward the UCC Church.
Previous sightings have spotted only 1 coyote.

Monday, September 02, 2013 - Cat Killed by Coyotes - Manito Drive, Fox Island
White house cat killed by coyotes near 11th & Manito Dr.

Fill in the information below, and click "Submit Incident"

* Incident Subject:

*Location of Incident

* Description of Incident:

For Coyote Sightings, list the location, time of day and how many you saw, as well as the direction they were headed in.

*Incident Date:
(Format: 11/20/00)

The information provided below will not be published on the website, and is for internal use only:

* Contact Name:

* Email Address:

* Phone:
(Format: 253-555-1212)

* Required Fields


Please click Submit only once,
You will be asked to verify your email address on the next screen.
Information collected on this website will be used to locate problem coyotes and control
the coyote overpopulation problem on Fox Island.
No personally identifiable information will be posted on the website.
You are visitor
since November 8, 2002