FoxIslandWA.net - 15 Years on the Web!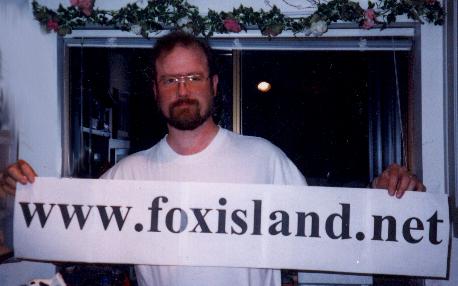 June 11th marks the 15 year anniversary of the day when FoxIslandWA.net went on line, to provide Islanders a place on the web! On June 12, 1999 webmaster John Ohlson published the first 'Fox Island Home Page, a meager beginning to what has become the center of information, activism, Island Events and other information.
That day a new online presence was launched for Fox Islanders, and a new company was born; Dragonwyck Web Design LLC. From our meager beginnings and our very first customer Don and Laura Musgrave, Fox Island's web presence has flourished.

Fox Island Deli To Add New Pub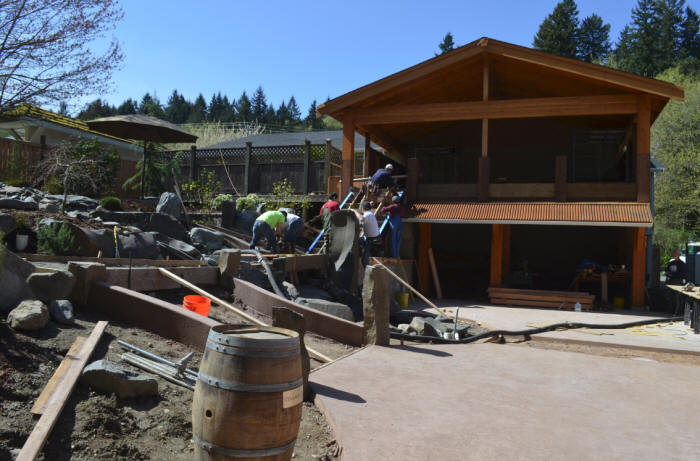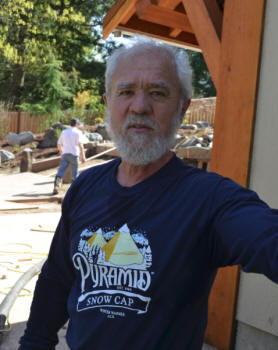 Fox Island Store owner Dwayne Herzog is building his 'last gift to Fox Island', a much needed public gathering place, where residents can sip wine, have a beer, and a snack while listening to piped-in music, and enjoying the bubbling fountains and waterfalls in the newest addition to the Store & Deli complex.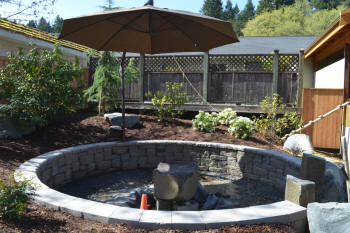 The facility will feature two stories of covered, family friendly restaurant/pub space, with two outdoor fire pit/fountains and a gazebo. Herzog said he expects the facility to be completed around Memorial Day, with opportunities to rent it for private parties for wedding receptions, and other functions.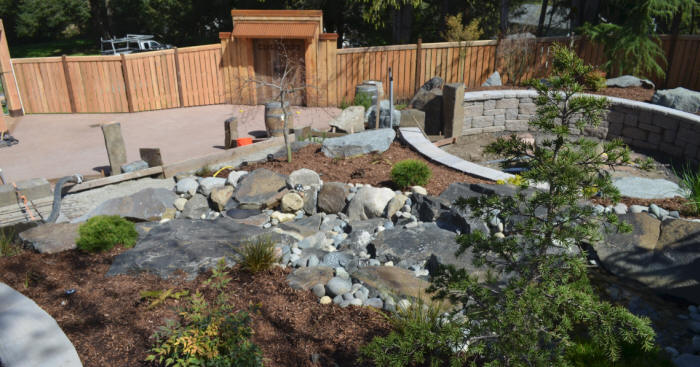 Two 'Flaming Fountain' fire pits are the centerpiece of the new Fox Island Deli expansion.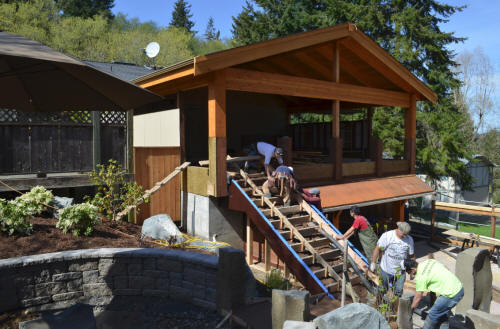 The second story features an open-air deck, overlooking the wine garden.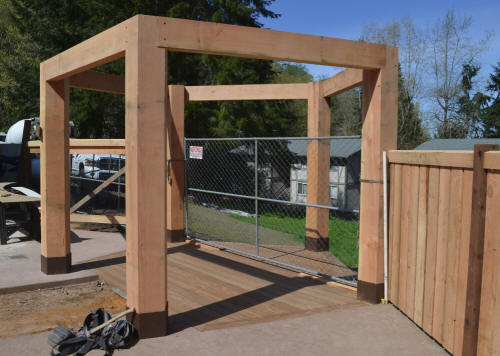 A gazebo will provide a space for musicians to entertain guests.

Troop 27 Eagle Candidate Builds Community Garden Expansion

Ian attaches the deer screen to a fence post, putting the finishing touches on his Eagle Scout service project.
Scouts from Fox Island's Troop 27, led by Eagle Scout Ian Nation, recently built a new deer fence to expand the footprint of the Fox Island Community Garden.

The expansion adds an additional 45' x 70' plot to the popular garden, which provides gardening space for Island residents who do not have sufficient space in their own yards for gardening.
DNR Removing Fox Island Ferry Landing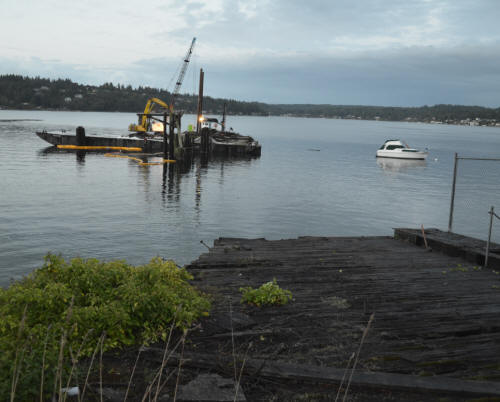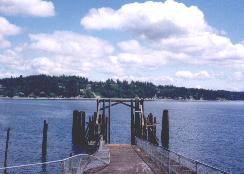 The old Fox Island Ferry landing is in the last stages of removal, at the corner of 9th & Fox Drive. Contractors working for the Department of Natural Resources are removing the creosote pilings that once made up the old ferry dock that brought cars to & from Fox Island during the 1920's, 1930's, 1940's and 1950's before the bridge was built in 1954.
In the photo at right, taken in 1999, you can see the pilings and ramp that have been removed.
The DNR has embarked on a program to remove creosote pilings from Puget Sound shorelines. The project should be completed by October 1st.

Colin Rivera Makes Eagle!

Colin Rivera, Troop 27's twelfth Eagle Scout, passed his board of review on August 12, 2013. He is the first Scout in Troop 27 to complete his Eagle Scout requirements in 2013.

His Eagle Scout project consisted of building raised bed garden boxes for the Fox Island Community Garden.

On August 12, 2013, Colin Gregory Rivera became the 12th Eagle Scout in Fox Island Troop 27's short history. Only in its sixth year, the Troop has produced twelve Eagles, averaging two a year. The national average for Scouts to reach Eagle is only 5%, however 23% of the 53 boys who have been members of Troop 27 over the past 6 years have reached Eagle so far, and they aren't done yet. No less than eight more Life Scouts are poised to reach Eagle over the coming 12 months.

Rivera joined Troop 27 in April, 2010, during the 100 year anniversary of the Boy Scouts of America, and received the centennial edition of the Arrow of Light award, Cub Scouting's highest honor. Crossing a rope "Monkey Bridge" as part of the rite of passage from Cub Scouts to Boy Scouts, he was among a group of new Scouts that swelled Troop 27's membership, nearly doubling it in size. He went on to enjoy campouts, hikes, building snow caves, going to summer camp and other activities during his climb to Eagle. His trip to the 2013 National Jamboree at "The Summit" in West Virginia was the peak of his Scouting adventures, where he joined 40,000 other Scouts from all around the US and foreign countries to celebrate the grand opening of the BSA's newest high adventure base.

Scouting has had a positive effect on Rivera. In his own words: "I have become more responsible. I used the skills I learned in scouts in all areas of my life like caring for my dog Eko, learning to meet deadlines in school and having to take responsibility for my own learning".

For Rivera's Eagle Service project, he collaborated with members of the Fox Island Community Garden, formerly known as the "Fox Island Pea Patch", where he constructed six new raised bed planter boxes. The Garden is used by Fox Islanders with limited gardening space, to grow vegetables, fruits and berries. He completed his project in the Spring of 2013, just in time for the planting season. Claudia Gustafson of the Gardening group, commented that the boxes were warmly received by the gardeners, and produced a bumper crop of produce in the summer months of 2013. Some of the produce grown in the garden is donated to local food banks.


Fox Island Sandspit Update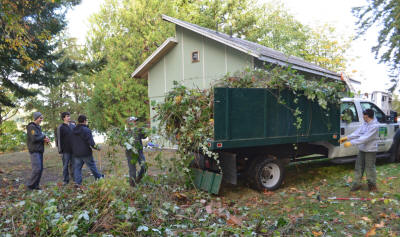 The Sandspit is now open to the public.
Visitors are encouraged to respect the privacy of neighbors, carry out dog droppings and trash, and park in designated areas. Continued public use of the property is dependent upon good stewardship by the public, so please keep this area open by doing your part to keep the sandspit clean and safe.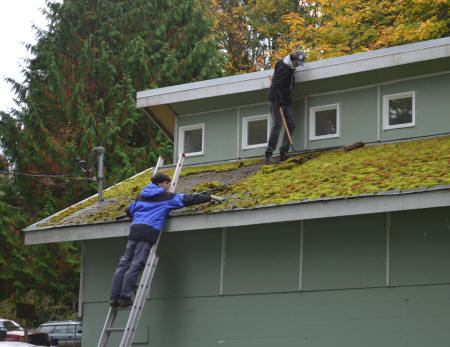 Troop 27 Boy Scouts and Crew 27's Venturers are currently working on trail improvements, brush removal and cleanup of the property and storage buildings. Several Eagle Scout projects have been underway at the spit recently, adding picnic tables, park benches a new staircase to the beach, and other improvements.
Scouts from Venture Crew 27 removed moss from the roof of the old Demolay Clubhouse building recently.
About 50 people attended the PenMet Parks Board meeting on August 20th, where they took feedback from the public regarding the closure, and future plans for use of the property. Virtually everyone present was supportive of keeping the spit open to the public, except for one person.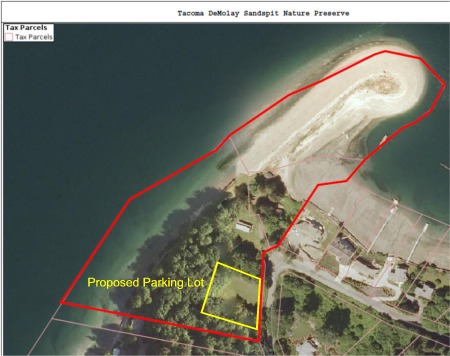 PenMet Board member Todd Iversen made a motion to spend money to install improved signage at the property, to help make people aware of the private property on either side of the spit, and the park hours & other restrictions. Discussion took place about the main issue concerning the neighbors; the lack of onsite parking.
PenMet is seeking some evidence of previous parking on the upper lot at the spit property, that will allow the use of onsite parking in the future. If you have photos or any recollection of cars parking there, please contact PenMet parks.
Fox Island Sandspit Aerial Photo showing parcel boundaries
Park Host Duties & Responsibilities
PenMet Parks has issued an FAQ document about the recent closure of the Fox Island Sandspit.
If you were unable to make the meeting on August 20th, you can reach the PenMet Board members via email at these addresses, and send your feedback about this issue:
William Sehmel wsehmel@penmetparks.org
Todd Iverson tiverson@penmetparks.org
Scott Junge sjunge@penmetparks.org
Andrew Morrison amorrison@penmetparks.org
Jon Ortgiesen jortgiesen@penmetparks.org


15 Years On The Web!
On Thursday, June 11, 2014 FoxIslandWA.net celebrated the anniversary of it's 15th year online!
With over 224,000 visitors as of June 2014, FoxIslandWA.net has become the south sound's online resource for what's going on in the Fox Island - Gig Harbor area.
We have also launched a new Smartphone enabled website: FoxIsland.mobi, so you can keep in touch no matter where you are!
A New Domain Name for the Fox Island Community
June 30, 2011 marked the last day for our website under the FoxIsland.net domain name. After 12 years, the owner of the name decided to reclaim it for personal use, and we are now found under a new domain name: FoxIslandWA.net.
Here you will find the same Fox Island information, Island Events, Fox Island news, Fox Island organizations, Fox Island Businesses, narrows bridge traffic reports, gardening tips, information about Fox Island and Gig Harbor Boy Scouts and Girl Scouts, shop on the Island Marketplace and much much more.
Sign up for the Fox Island eFlashTM email newsletter, and keep informed about things going on around our Island paradise. We have also launched a new Smartphone enabled website: FoxIsland.mobi, so you can keep in touch no matter where you are!
Here's to another 15 years on the web!
John Ohlson
Webmaster