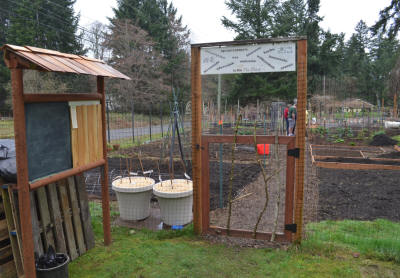 Established in 1979
Meetings 2nd Thursday of each month
September thru June
11 a.m.
Chapel on Echo Bay
400 6th Avenue
Fox Island, WA 98333
Pot luck luncheon following each meeting
Membership fee: $10.00/yr
Membership is not limited to Fox Island residents. We welcome and invite all people interested in gardening, regardless of your address, ability, garden or no garden, or the status of your green thumb :). Our stated purpose is "To stimulate and share the love and knowledge of gardening among members, friends, and neighbors."
Call the number above with any questions, or just attend one of our meetings... and bring a friend!
Our members currently volunteer their efforts toward our "perennial" projects, which include:


| | |
| --- | --- |
| | Fox Island Cemetery flag pole and garden, and Memorial Day wreath: Planning, planting, and helping to maintain the site. |
| | Gardens at the Chapel on Echo Bay: Assisting with planting and maintaining. |
| | Annual Fox Island Plant Sale held at the Nichols Community Center the first Saturday in May: Participating in the planning and work effort with FICRA and the Fox Island Garden Club. |


Spring 2011
And there's so much more to discover about our activities. Come join us in our efforts to learn all we can from one another, share plants, have fun, and just do our small part to help keep Fox Island beautiful!
For any questions please contact: John Reese 253-549-2160

CALENDAR OF EVENTS 2014-2015
Sept.11, 2014 Welcome back
Oct. 9, 2014 Field Trip
Nov. 13, 2014 - "A Summer of Tomatoes" by Hal Goodell
Dec. 11, 2014- Holiday party and gift exchange
Jan. 8, 2015 Joint mtg. w/Fox Island Garden Club, speaker TBA
Feb. 12, 2015 "plant profile" & sharing
March 12, 2015 "Orchids" by Lan Altman
April 9, 2015 "Fuchsias" by Sharon Miller
May 14, 2015 field Trip -Lakewold Gardens
June 11, 2015 -Summer Plans

$10.00 Membership fee.
Contact: John Reese 253-549-2160

Anyone with an interest in gardening is welcome.

SAND & SOIL MEMBERS IN THE SPOTLIGHT
To let our Fox Islanders have a peek at the uniqueness of each of our gardeners, every month we are interviewing one of our members. We are surprising ourselves most of all. Wait until you discover what we're finding as we scratch the surfaces of the fertile field within our membership.

HAROLD "HAL" GOODELL JUNE 2011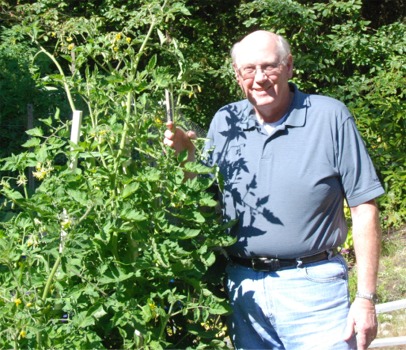 Hal is Sand & Soil Garden Club's "go-to" man for tomatoes and how to nurture them. But his life encompasses so much more, as you will see. He was born in Olympia and grew up in Puyallup, WA. Interestingly, the 1908 house he lived in was part of one of the first nurseries in the Puget Sound area. The remaining filbert orchards were part of his playground, along with a huge, multi-pronged cedar that he used as a "rocket ship." After a huge storm blew his "ship" over a few years ago, he counted 100+ rings, indicating that it was likely planted around the time that the house and nursery were established.
Hal's father worked as a cattle rancher in North Dakota for some years, returning to Washington in 1941, where he worked at lumber mills, among other crafts. Hal remembers the family always having a garden, noting that soil-rich Olympia was a plus for raising vegetables, and, of course, tomatoes. Hal does not consider himself a gardener, per se, his main interest being tomatoes, and he always raises them from seed. He doesn't collect seeds, stating that it is so inexpensive to buy them, which also allows him to easily experiment with new and unusual varieties.
Hal has two small greenhouse "laboratories," where in early spring he can observe and nurture his new plants, getting them ready to transplant into larger containers for friends, and especially the annual Fox Island plant sale in early May. He is very proud, and rightly so, of contributing 150-plus of a variety of tomato plants to the sale, for the benefit of the Fox Island Garden Club, FICRA, and our Sand & Soil Garden Club, all organizations whose activities include working to help maintain the history and beauty of our little island. His favorite tomato, by the way is Stupice, for its tastiness, medium size, and being prolific throughout the summer. The bane of his existence as a gardener?: cold springtimes and summers (tomatoes need lots of heat), slugs that eat his beans, and he can't seem to grow zucchini. Oh well.
Beyond all of that, however, Hal has made his mark in the world starting with his activity as a ham radio operator since he was 15 years old, which then piqued his interest in electronics. He holds a B.S.EE from the University of Washington (HUGE Huskies fan!) which took him into the then Boeing aerospace program, now space and defense. At Vandenberg AFB in California, he helped develop the Minute Man missiles, AWACS surveillance aircraft, the last 26 years of inertial upper stage surveillance satellite development. As a licensed ham operator and a member of the American Radio Relay League, Hal has credit for contact with the current 340 recognized countries in the world (all but five at present). He has two 125-foot antennae and one is 40-foot, which he still climbs "often," but emphasizes that he practices safety first.
Then comes his MOST favorite activity: golfing. He says that this gives him treasured time with Annie, his wife and fellow Sand & Soil gardener, and gives them both time for walking and exercise. He describes himself as "curious, and a good troubleshooter and problem solver." His practice is to live well and be kind to everyone, and if you know him, you know that's our Hal!

JOHN REESE MAY 2011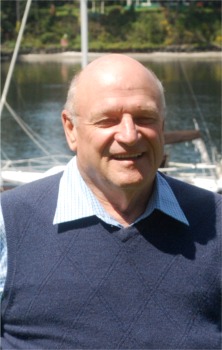 John is a native of Crookston, Minnesota, but it didn't take him long to find us here on Fox Island. He lived in Crookston through high school, then joined the U.S. Air Force for four years. When he returned home, a friend told him that he had work lined up for him in Seattle, which brought him to our fair shores. It wasn't that simple, however, as the job did not materialize. He stayed, anyway, and found work with Western Electric. After a succession of jobs, mostly electronics, and working at Boeing for a while, he completed some college work in the meantime. He even worked as a commercial fisherman in Alaska for a while.
Somehow, this all led to a college degree in forest management, and he worked with ITT's soils program, mainly as a researcher, but during the Carter years, he was part of an enormous lay-off. What did our stout-hearted friend do? He became a real estate appraiser until he retired in 2010, and now can leisurely enjoy traveling to see family and friends, fishing, and gardening, when he's not helping his daughter with her young children while she's at work.

When asked what he most likes about gardening, he states, "I just like to grow things." He remembers that his parents always rented space for their gardens. He named traveling, growing tomatoes, fishing, and babysitting his grandkids in the same breath, however, and is currently not sure which has the priority, but wants to be more involved in the Sand & Soil Garden Club this coming year. In fact, he is scheduled to make a presentation on "Soil Preparation" at our February 2012 meeting.

John is a recent widower, but he and his wife, Kathy, enjoyed working together in their spacious landscaped yard and garden. She was a loved member of Sand & Soil, and that's actually how we got to know John. He looks forward to having the regular give and take that our membership offers him. He likes to learn, and to help others learn, which is what we're all about. He says he's still trying to figure out what happened to his raspberries. He planted them, had an excellent crop the first year, and the next year they were DEAD. Ouch! (Stay tuned to hear the rest of this story; just visit one of our meetings.)

John describes himself as a "people person" (did I tell you he used to breed and raise fancy pigeons? and was a boy scout leader for many years? Is there anything this gentleman hasn't done?) We know him as a quiet, fun person, who's loyal to his family. His philosophy is conservative. He feels that people should work for what they have, exercising responsibility and accountability, and contributing their talents for the good of the community. When asked if there was anything else he wished to add, he said, "I miss Kathy."

JOAN BROUGHTON APRIL 2011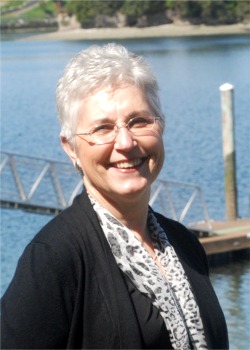 Joan met up with Sand & Soil Garden Club at the Fox Island fair only two years ago, but she likes being active, and her participation in many of our group efforts are much appreciated. She describes herself as dedicated, loyal, and kindhearted, and our members would certainly agree. She is a retiree who now can do what she wants, when she wants, and how she wants, and is enjoying every minute of her rather newly defined lifestyle. She retired from the Port of Tacoma customer service department after 25 years, and doesn't miss it one bit.

Joan grew up in the Black Diamond and Enumclaw area of Washington. She says her mother loved flowers, and liked to grow them from seed, especially begonias. Joan always liked helping her mother, and fondly remembers gathering supplies for her to plant and assemble her Memorial Day baskets. Her grandparents always had big gardens, which are often the inspiration for our gardeners of today. She describes her mother and aunt canning fruit and vegetables by the half-gallon, as they had extended family living with them during her youth. Joan, herself, enjoyed canning for many years.

Springtime is Joan's favorite aspect of gardening; she says it makes her happy, makes her smile, to see all the fresh new growth and blossoms. She forgets about the various stresses of daily life when she is in her garden, and simply enjoys the tasks before her as she nurtures her plants and keeps her plots "weedless." We're not kidding about that. She doesn't allow weeds past her garden gate.
Joan doesn't claim a favorite plant; well, maybe luscious lilacs, or roses (when the deer don't eat them). She does feel she has a special touch with rhododendrons and clematis, however, and feels that they would really go crazy if she didn't keep them in check with dedicated pruning. The only aspect of gardening she could think of that she dislikes is seeing daffodils and other flowers die and having to let them be, until the appropriate time to cut them back. The garden "keeps her moving," which she does appreciate, and seeing the results of her efforts gives her a satisfying feeling of success.

In Joan's "idle" time, she does some sewing and crocheting for her grandchildren, and, believe it or not, great-grandchildren. We have a feeling they will also benefit, as they grow, by learning the joy of gardening from her.

BARBARA SCHULTZ MARCH 2011

Barbara has been a part of the Sand & Soil scene since 1986. She is "almost" a native of Washington, having grown up on a farm in Chehalis from the age of three. The family farm included nearly everything one can imagine being part of that setting: pets and working animals, a pond, kids, and, of course, always large gardens. The depression was in full swing, and Barbara's family depended upon the products of their garden and the forests. Her father was one of a group of families who founded the small community they lived in, having brought his family from Illinois to settle here.
Barbara professes a love for "nature and living in nature, nurturing growing things and children." She has concentrated her efforts on container gardening, and has a wide variety of planters to complete her garden pallet. She fears that she has sustained some serious losses from the wild temperature swings Fox Island has experienced this winter, but takes that in stride, as any farm-raised "country girl" would. What aspect of gardening raises her ire? Slugs! We won't describe here Barbara's methods of contributing to their demise. Her favorite plant, rather recently, is a golden bamboo that she installed as a privacy hedge. She says it is particularly beautiful as it waves in the north wind crossing her water's-edge property.
This club member has lived here since 1958, only four years after the island bridge connected us to Gig Harbor; however, her late husband Bob's parents arrived long before that. They bought the little Tanglewood Island in 1933, known then, and for some years afterwards, as Grave Island, by native Indians. They built the roundhouse and lighthouse to be used as a boys' camp.
Barbara, and Bob, a computer expert, raised five daughters, who have given them five grandchildren. She and her husband were charter members of the Fox Island Yacht Club, and her children were "raised on our 40-foot ketch," named The Solution. They sailed extensively, participated in hydroplane races nationwide, and were national champs four times in the "6 liter class." She states that she didn't come to boating easily, for years pretending that there wasn't "anything below the surface of the water." That isn't all that has kept her busy through the years, though, with sketching and watercoloring, sewing (a lot, including her daughters' wedding dresses and countless bridesmaid outfits), and horseback riding among her hobbies. All that and keeping a full-scale garden, too. Whew!
Barbara describes herself as "determined" with whatever she's interested in. She went on to add: she loves and cares about others, is somewhat shy, and has a comic nature. Her philosophy: "Do the best you can, and forget the rest...and fly over the rainbow." The rainbow part is difficult to put down on paper. You'll have to ask her about that, and this writer hopes you will. It's a beautiful thing. We're really glad this determined person, one of the most active (what else?) in our group, chooses to be with us.

DOREEN SAMUELSON FEBRUARY 2011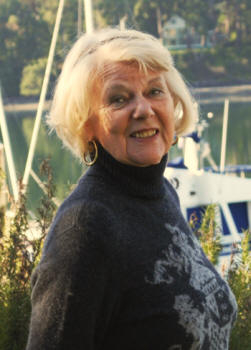 This ebullient, happy woman came a long way to join the Sand & Soil Garden Club. She was born and raised in Salisbury, England - "Stonehenge country," according to her, but didn't arrive on the shores of Fox Island until 1972. It took her a little longer to find her way to Sand & Soil in 2007. The likely reason? She is one busy lady: owner and proprietor of the Beachside B&B, an inveterate worldwide hiker for more years than she knows, world traveler, a knitter belonging to the Fox Island "Nitwits," aspiring gourmet, family gatherer, and, of course a gardener.
Doreen's Scottish father was one who showed her the joy in gardening. He gave each of his seven children their own plots and seeds, and taught them how to design and care for their spaces to grow what they liked. It was a family thing. Besides her roses, she claims a juniper tree placed near her dining room window as the favorite item in her current garden, and has pruned it up so she can see the beauty of its trunk as well. She feels her garden is a place she can search her soul for peace, and says that five hours can pass before she knows it.
Doreen claims no notable achievements as a gardener, but tells of many "failures," which have taught her more than anything in her years of effort to beautify her surroundings. When asked if there is anything about gardening that irritates her, her prompt reply was "moles." She has a spacious greenhouse where she nurtures the soil and plants her favorite vegetables. Alas, the moles have discovered what a wondrous place this is, and pop right up inside as they make their way along the rows, making hills and creating air spaces around roots and ruining her plants. Also, because her property is right on the water, she must choose plant types and locations carefully, as the saline tidewaters will ruin some plantings.
Most people are unaware that Doreen's husband, Pastor Dick Torgerson, is a Sean Connery look-alike and sound-alike, who for years has often been hired to work around the country taking on the persona of the master spy, James Bond, for special events. Recently, he has taken fewer "assignments," but continues to perform occasional weddings in his real-life role as a pastor.
Doreen describes herself, in a word, as HAPPY: she appreciates that she has a wonderful life, a great large family, she lives in the U.S., on Fox Island, loves our group, has the best lot of friends, loves to travel the world, and says, what more can she ask?. She likes to be around people, loves to chat, does her best to follow the Golden Rule, looks for the best in others, invariably looks on the bright side of any circumstance, and refuses to be a negative person. Are we blessed to have her as a member, or what?

Sand & Soil Garden Club gives the Fox Island cemetery a new face.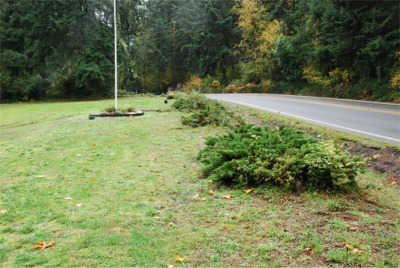 In June 2010, the club members completed their revision of the front garden of the Fox Island cemetery. The club voted in late 2008 to propose to the cemetery board that it be allowed to take on the project. Permission was granted, and planning started in 2009 to correct a visual traffic hazard for persons entering and leaving the cemetery driveway, and to beautify the site. The berm was re-graded and newly planted with low bushes and perennials to enable drivers to watch for approaching traffic. Members of the club, and teen volunteers from our island churches are volunteering to help the cemetery board keep the site weed free.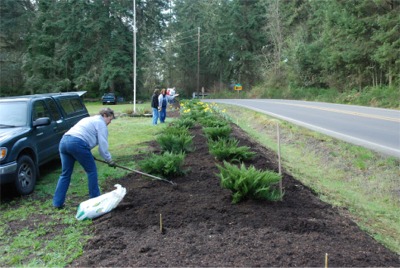 The Sand and Soil Garden Club initiated this project in June, 2009. The club has maintained the cemetery flag pole garden for years and felt that the existing landscaping needed to be renovated, as it had been neglected.
The club presented a proposal to the FI Cemetery committee to renovate the entry landscaping that runs parallel to the road. The Cemetery committee approved the proposal and agreed to provide partial funds for accomplishing the task.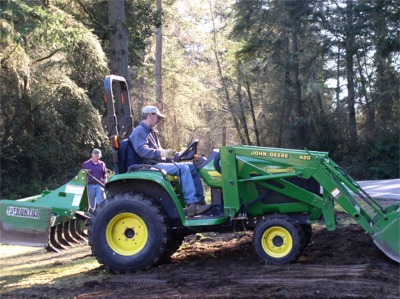 Sally Cross provided a design layout of the renovation. Which included hardy Tam junipers in a zigzag pattern across the front, Barberry shrubs at the ends and near the flagpole, and daffodil and gladiolus bulbs mixed in for color throughout the spring and summer.
The renovation was begun in the fall of 2009 and completed by the spring of 2010. Mike Campbell volunteered to provide and operate a back hoe to do the heavy work of removing the old shrubbery and spreading the compost.
Club members and their spouses provided the manual labor to remove roots and weeds, roto-till the area and plant the junipers, Barberrys and bulbs. Additional Daffodil bulbs will be planted this fall.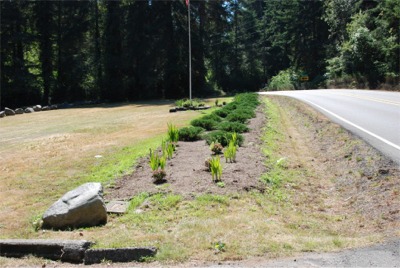 A Golden Barberry was planted at the south end in honor of long time Fox Island resident Jeff Feagin. Jeff loved the island and nature and had a hand in many community organizations that shaped the island's identity.
The Sand and Soil Garden Club will continue to help provide year round maintenance to the area as a club project for the coming years. We hope all the Islanders enjoy the much improved Cemetery entrance.
The Sand and Soil Garden Club would like to provide special thanks to the following who supported and helped in this project:
| | |
| --- | --- |
| | The Fox Island Cemetery Committee for supporting this project and providing the funding. |
| | Mike Campbell for volunteering and operating his back hoe to do all the heavy work. |
| | Sally Cross for designing the project and selecting and picking up the shrubbery . |
| | Sheila Spinn for leading the club cemetery committee. |
| | Sheila Spinn and Marian Fry for their coordination with the cemetery committee. |
| | And last but not least, all the club members and their spouses who did all the labor to make this project a success. |

Sand & Soil Garden Club Plants Daffodils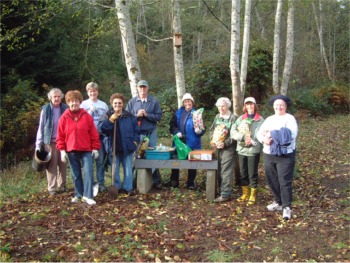 One weekend last November in 2006, the members of the Sand & Soil Garden Club planted over 100 daffodil bulbs at the Fox Island Nature Center. Spring is nearly here, and the bulbs have begun to come up. Stop by the Nature Center soon, and enjoy all of the springtime color.
Thank you Sand & Soil!
Below: March 17th, the daffodils are blooming!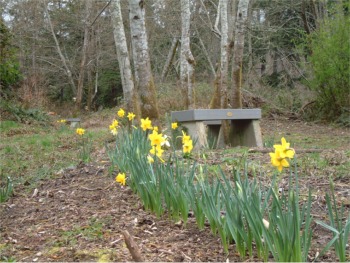 Above: Sand & Soil members including Sheila Spinn, Margaret Wickline-Peters, and Marian Fry and many others at the Nature Center.

SAND & SOIL SEASONAL MUSINGS
The Louisiana Iris

<![if !vml]><![endif]>

ong ago in the beginning,

When the cypress swamps were infants,

Grew the iris, blue as heaven,

And the russet of the autumn...

Now, they did not grow together,

Lake and forest lay between them.

Just as the Acadian lovers,

Eons later sought each other.

Traveled prairie, swamp and bayou,

So the Louisiana Iris, through the

Years that became ages,

Crossing lake and swamp and bayou...

Traveled always towards each other.

Came and merged and grew together.

Met at last in Iris heaven.

From their meeting came the purples, red,

The clearest yellows.

Tints and hues of earth and heaven,

All the colors of the rainbow

Grow today in Louisiana.

In the lovely cypress forests,

In the swamps and down the bayous,

In the parks, and in the gardens,

In the land of the Acadians.

Grow the flowers of the rainbow.

Grow the Louisiana Iris.

Mrs. Anthony Nobile
Riverside Garden Club
Visit our archive of member profiles and articles.
You are visitor
to this page