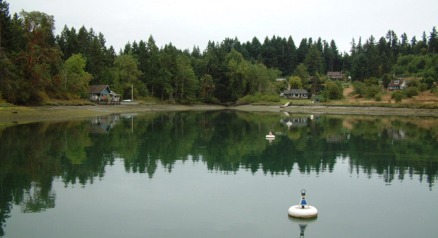 The Fox Island Yacht Club is located on scenic Cedrona Bay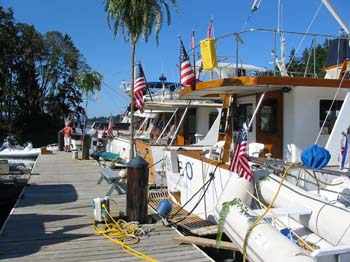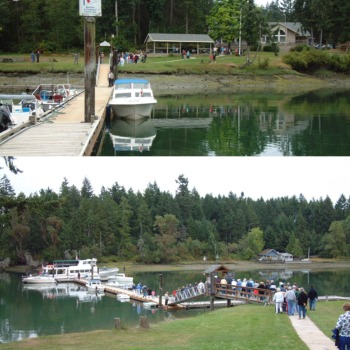 The Fox Island Yacht Club has moorage and a boat launch, in addition to the meeting hall and grounds. The annual "Fox Island Historical Cruise" is launched from the Yacht Club's facility each year.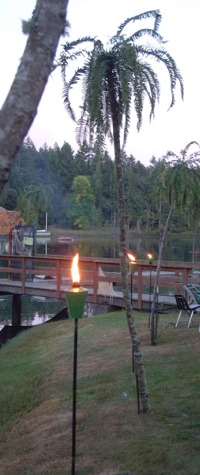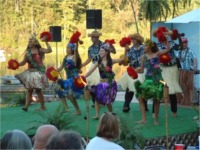 Hula dancers provided a wonderful show, with many costumes from Hawaii and Tahiti.
Hawaiian Luau 2004
The Fox Island Yacht club staged it's biggest summer Luau ever in 2004, a record 400 people were in attendance. With entertainment by the Fox Island's own Joe Mundo (former music director for Don Ho), Hula Dancers, and Fox Island's own torch-lighting natives, the capacity crowd had a great time. A working volcano occasionally spewed smoke into the summer sky.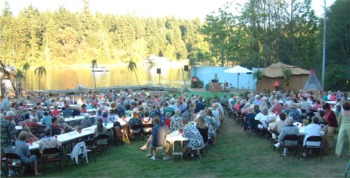 Over 400 guests were in attendance
Alder/sword fern 'Palm' trees adorned the Yacht Club grounds, giving our Northwest forest a tropical flavor, and leis were given to all guests as they checked in at the grass 'hula hut'. Exotic tropical drinks were served at the Tiki bar, along with delicious Hawaiian hors-d-oeuvres.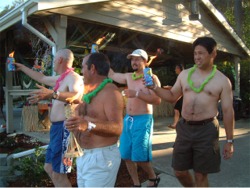 Island 'Natives' carried the torch
The main event was the Luau buffet, featuring Kahlua Pork, Teriyaki chicken, rice, salads and coconut cake for dessert. Be sure and get your tickets early next year, as this year's event was sold out.